Classification:Caustic Soda

CAS NO.:1310-73-2
Other Names/MF:NaOH
Purity:99%
Appearance: white flake or granule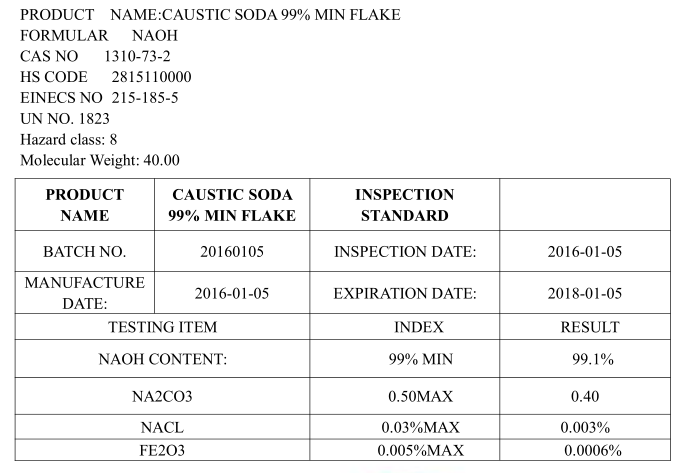 Usage:
mainly used for potash production of raw materials, such as Potassium Permanganate, potassium carbonate etc.. In the pharmaceutical industry, for the production of potassium borohydride, spironolactone, batyl alcohol, testosterone propionate. For the production of potassium soap, alkaline battery, cosmetics in light industry (such as cream, cream and shampoo). In the dye industry, for the production of dyes, such as vat blue RSN. In electrochemical industry, used in electroplating, carving and so on. In the textile industry for printing and dyeing, bleaching and mercerizing, and used as the main raw material for synthetic fiber, polyester fiber manufacturing. In addition, it is also used in metallurgical heating agent and leather fat, etc..
1), used as a desiccant, sorbent, used for preparation of oxalic acid and potassium salt, also used in electroplating, engraving, lithography, etc.
3), basic chemical raw materials, used in medicine, daily chemical, etc..
4), as an analytical reagent, a reagent, carbon dioxide and water absorbent.
5), the daily chemical industry used to make soap, shampoo and wash soft soap, shampoo, cream, Leng Shuang and other raw materials. The pharmaceutical industry for the manufacture of progesterone, vanillin and other raw materials. Manufacturing melamine dyes for dye industry. Alkaline battery for battery manufacturing industry.